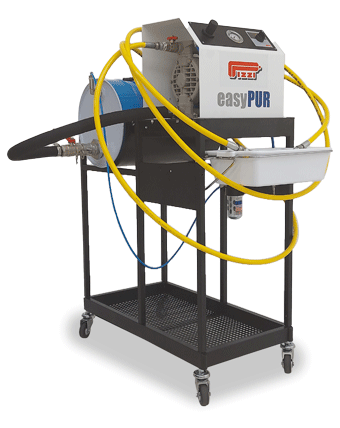 System for the application of one-component polyurethan adhesives (PUR), liquid, medium viscosity, moisture curing (moisture reactive).
easyPUR represents a very smart and efficient solution for the application of PUR adhesives.
A unique, time and adhesive saving, fast, accurate and clean system.
Not as expensive as other larger and more complex machines for applying PUR adhesives and also, for sure, more productive and cost-effective compared to PUR glue cartridge, expensive and impractical solution if used in a production cycle!
easyPUR, the right compromise that was missing!
According to the instructions of the leading glue and adhesive manufacturers, PUR wood adhesives should be applied with ad hoc spatulas and apt nozzles for bead application, using PIZZI special profiled glue cylinders and suitable nozzles for PUR application.
Slot nozzles available, always made-to-measure for PUR, with variable adjustable opening, with special lips with high resistance to abrasion.
Easy product distribution system for control flow.
Adjustment of application is carried out by means of precise registers.
Special special tailor-made solutions are constantly developed and realized by PIZZI.
ASK INFORMATION ABOUT

easypur